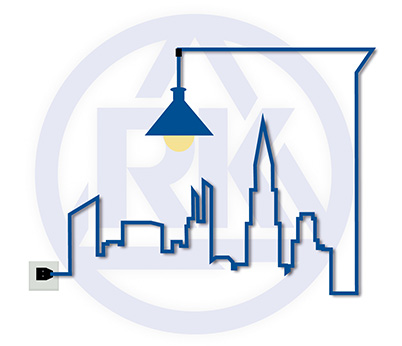 Continuous increase in the price of electricity means that one of the main goals for all major energy consumers is to improve energy efficiency. In terms of energy consumption, the purpose of applying energy efficiency measures does not refer only to industrial installations, but also to consumption by the population, such as street and public lighting, which in most cases are managed by local municipalities and is one of the main forms of consumption that can be more efficient. Although great strides have been made in this area, there are still many opportunities for great savings. To serve this market Rade Koncar – Kontaktori i Relei created the RK-LIGHT system, which enables intelligent street lighting management, increasing efficiency by reducing energy consumption, including tools that help users diagnose lighting problems and immediate maintenance.
Replacing the classic street lighting with innovative LED lighting, in addition to saving electricity by changing the type of lamps, provides additional savings by using the ability of the LED lamp to change the intensity of lighting depending on the field conditions.
To take advantage of these benefits it is necessary to establish a system that connects with each street lighting lamp individually. The connection between the lamps and the server device uses PLC communication (Power Line Communication), while the transfer of information from the server to the database is transmitted by GPRS communication.
This communication system (tele management), with a remote command from the controller software allows:
Turn on and off a group of lamps or individually each lamp, manually or automatically according to a given program;
Lighting intensity change (from 0-100%) of a group of lamps by zones, manually or automatically according to a given program, ambient sensor or motion detector;
Determining the electricity consumption for street lighting for each substation separately, with the possibility of detecting abuses;
Detection of defects of each bulb separately and signaling to the control software in real time.
For more information and offers please contact us today.